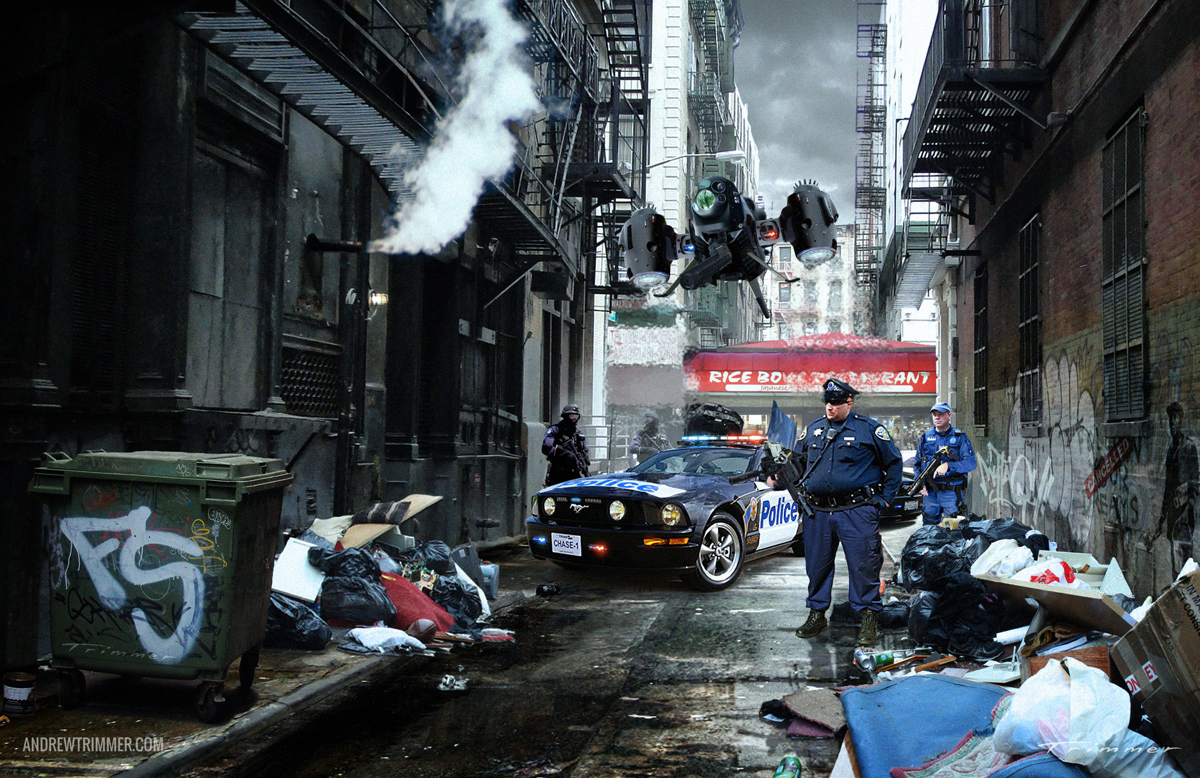 Photo Composite Look Frame
Image Retouching for Film Concept
CLIENT: Pixel Frame
September 2014
---
This is an example of the process of combining multiple images into one concept 'Look Frame' of a scene for a film in development. Usually these concepts are conceived in part for the purposes of pre-production preliminary discussions and meetings to establish a direction for the visual look of the film. They can inform the early direction of Production Design, influencing the design of sets, locations, dressings, costumes, props, cinematography and lighting. However, they usually are discarded early when a production ramps up to actual production.
In this case, the scene represents a moment when the maligned and disoriented main character hides out in a city building, whilst police dispatch a semi-autonomous hunter drone to search for him.
This 'look frame' is for a feature in development called SKULL PUNCH based upon the screenplay "KING" and the short film "SKULL PUNCH" by Michael Craft, from a draft written by Shayne Armstrong & S.P. Krause, produced by Pixel Frame.
Photoshop Mash-Up Procedure for the Background Set
The build up of this image involves the sourcing of multiple reference images, usually provided by the client, taken from personal image reference libraries, or Google Image. In this case, the entire composition is made up of images 'liberated' from Google Image searches and re-purposed into the frame in Photoshop. Background plates of city alley ways, Asian restaurants, graffiti, rubbish, police personnel and cars, SWAT team members and weapons, smoke, clouds, drones, jets, and military targeting devices were all integrated into the piece. Elements are chosen to match the background plate for perspective, angle, lighting and shading. Selected parts are cut out, re-sized and positioned, then tonal, colour, lighting and shadows values are integrated with the background plate, and finished with an overall grade. Sometimes in the process, digital over-painting is done to change parts of a reference, or colours and tones are picked from an image.
Copyright issues aside, using multiple sourced images from the net for a new composition is intended for private use and demonstration purposes in discussions and meetings, and is used here for instructional reasons.
Procedure for the Drone
The same steps are taken for the construction of the 'Hunter Drone' where images of various types of drones, jet engine parts, and military targeting devices were selected and cut up, re-sized, flipped, positioned with tones and colour balanced. The flattened comp is placed into the final background, navigation lights added, then jet glow and heat haze added into the background.
Related Works