Fun with Photoshop ~ Photo Mashup Poster
Compositing a poster image for Grafix Garage's

squad team in the online first-person shooter game Battlefield 3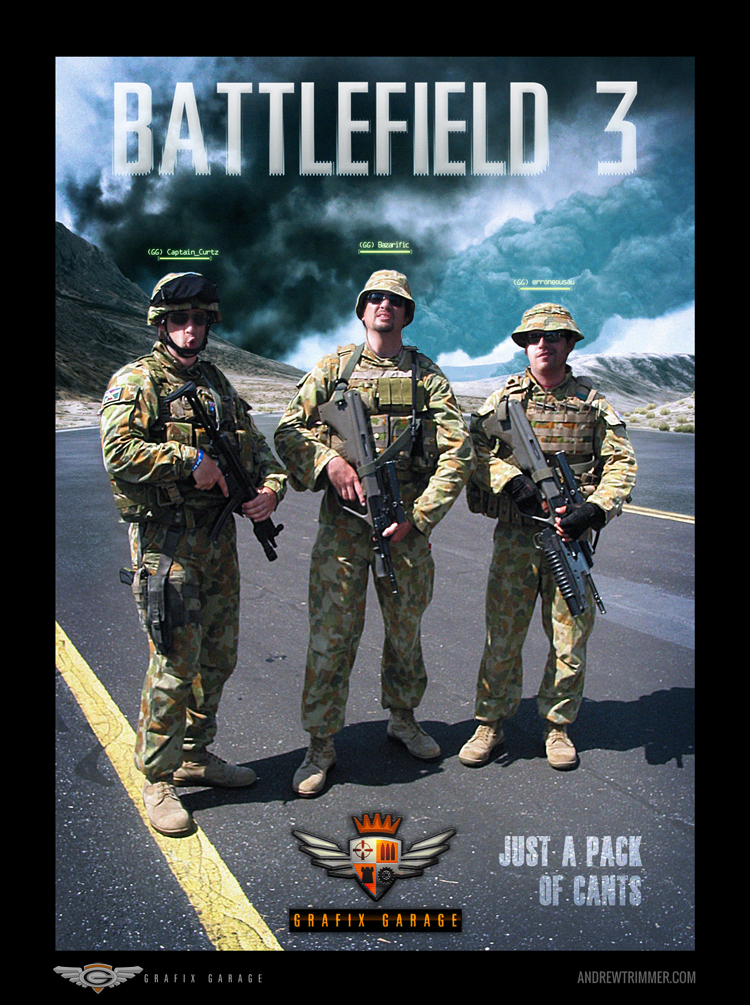 INTRODUCTION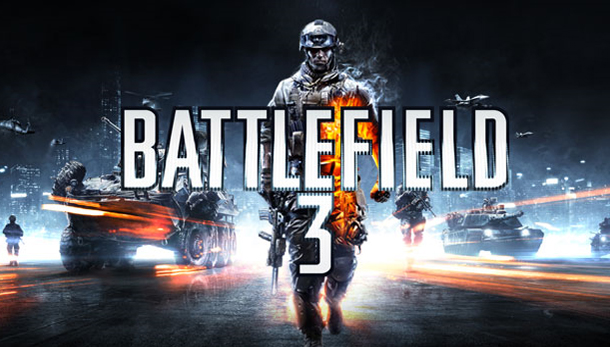 Battlefield 3 is a first-person shooter video game developed by EA DICE and published by Electronic Arts. It is a direct sequel to 2005's Battlefield 2, and the eleventh installment in the Battlefield franchise. Source ~ Wikipedia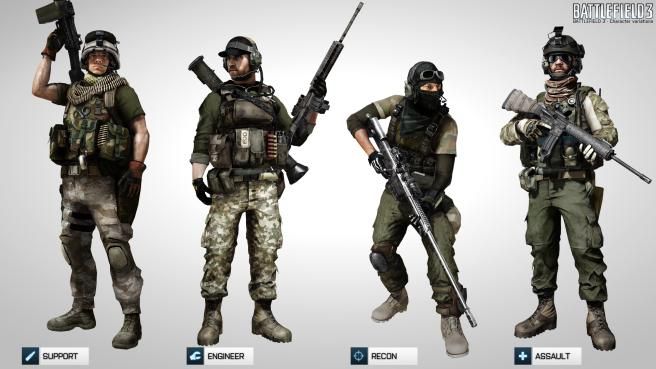 The team at Grafix Garage spent a lot of time after hours together in a squad running, driving, and flying around blowing shit up. Obsessed with it.
Like, a lot.
We'd play as different characters with varying abilities; either Support with ammunition, Engineer for repairs, Recon for sniping, and Assault for, well – assaulting people…
PROCEEDURE
Comping the Background Images from within the Game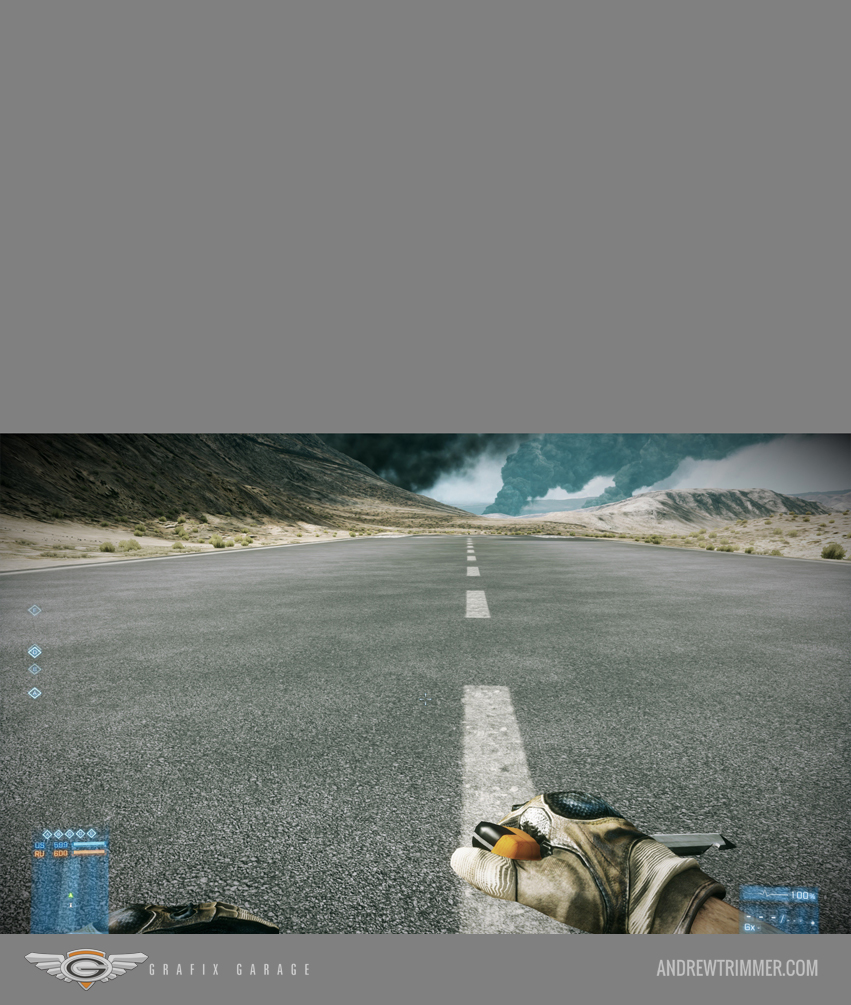 Step 1A. Background
Screen grab images from in-game within the Firestorm map looking down the runway on the US team base. As the game screen is a 16 x 9 horizontal proportion, three views are taken while moving the character to look up. These will make up a vertical portrait format once composited and blended together.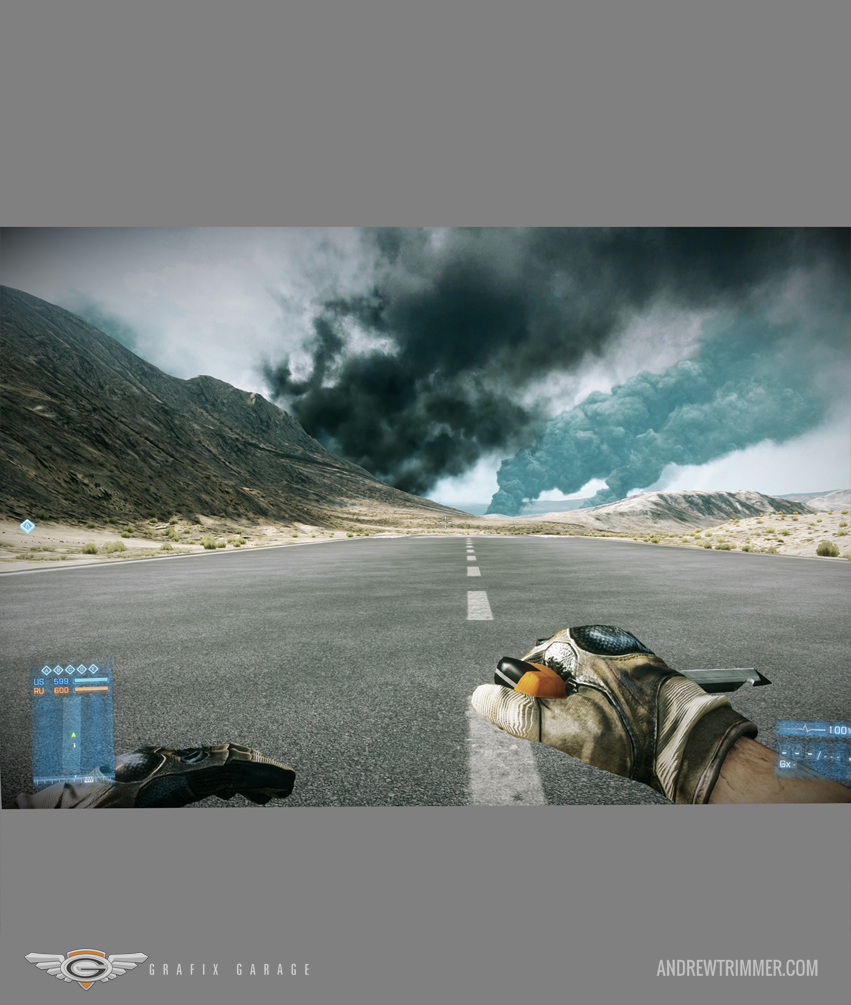 Step 1B.
Screen grab images from in-game within the Firestorm map – middle section.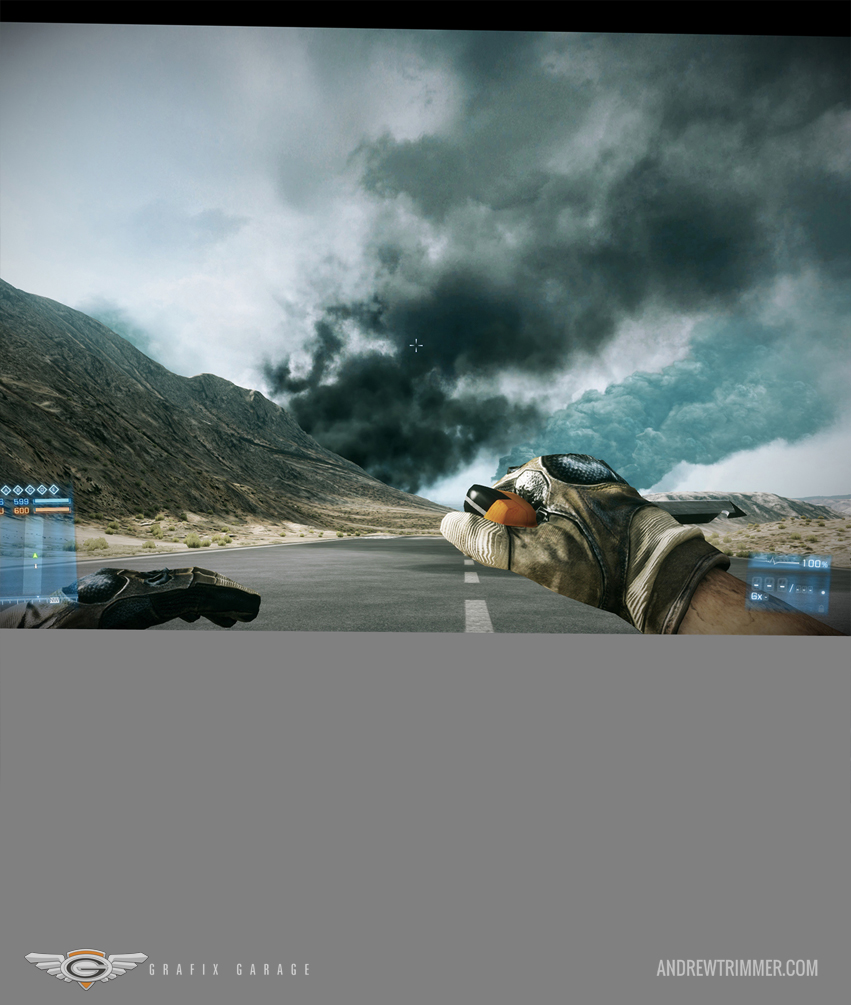 Step 1C.
Screen grab images from in-game within the Firestorm map – upper section.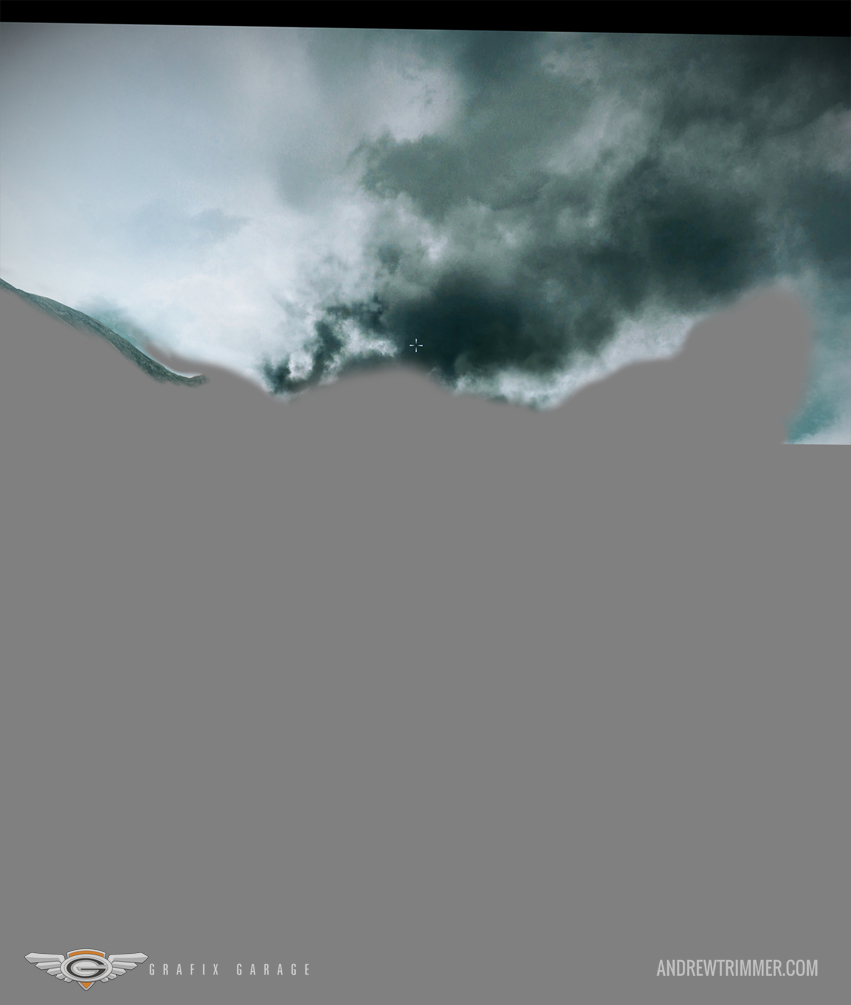 Step 2A. Blending the sections
Blending and masking the upper sky and smoke background areas together – upper section.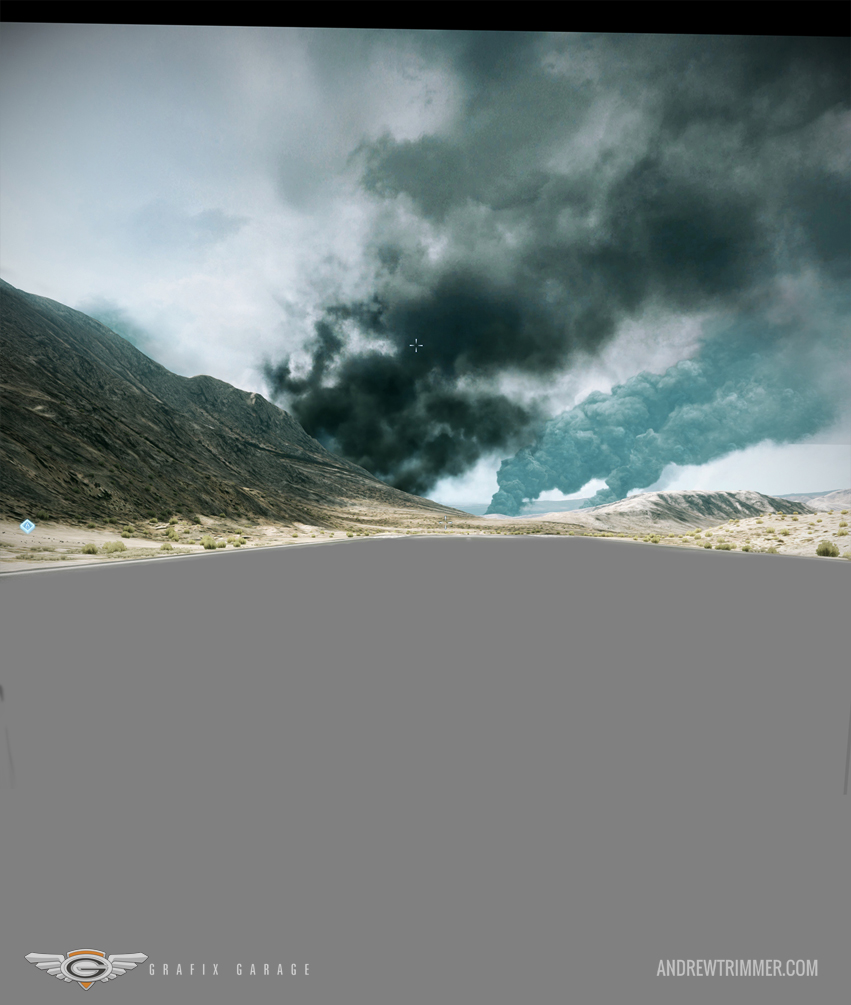 Step 2B.
Blending and masking the sky and smoke to middle distance background areas.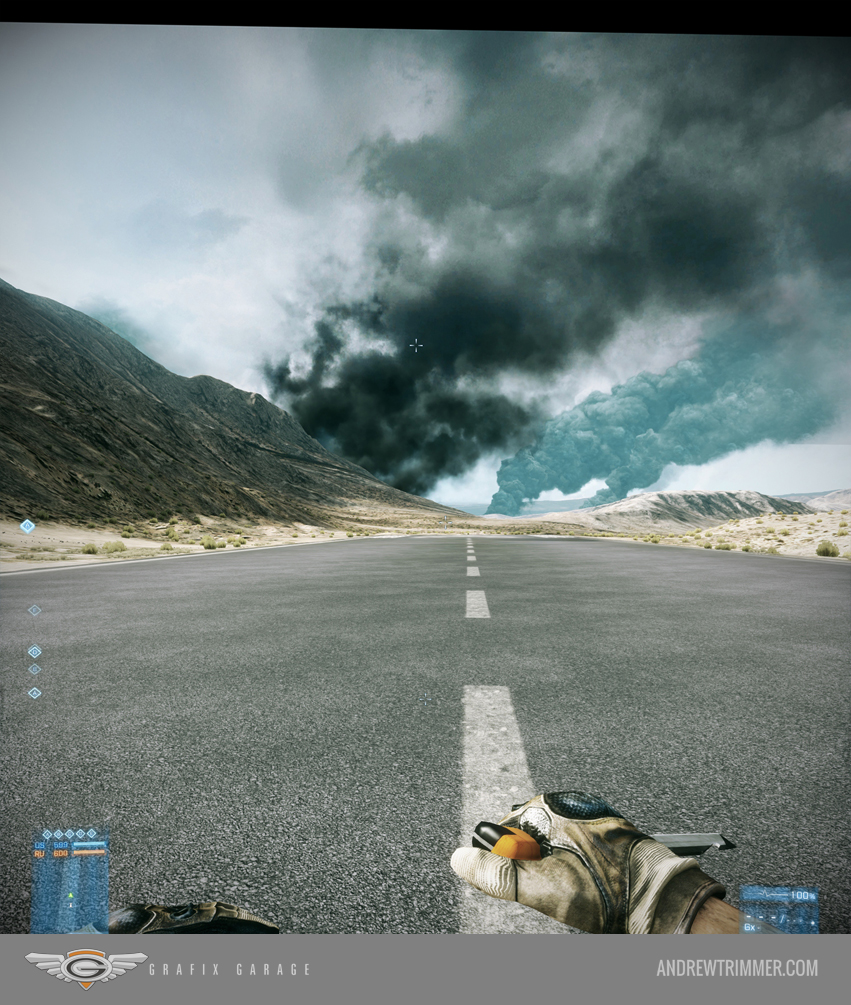 Step 2C.
Foreground section added and blended.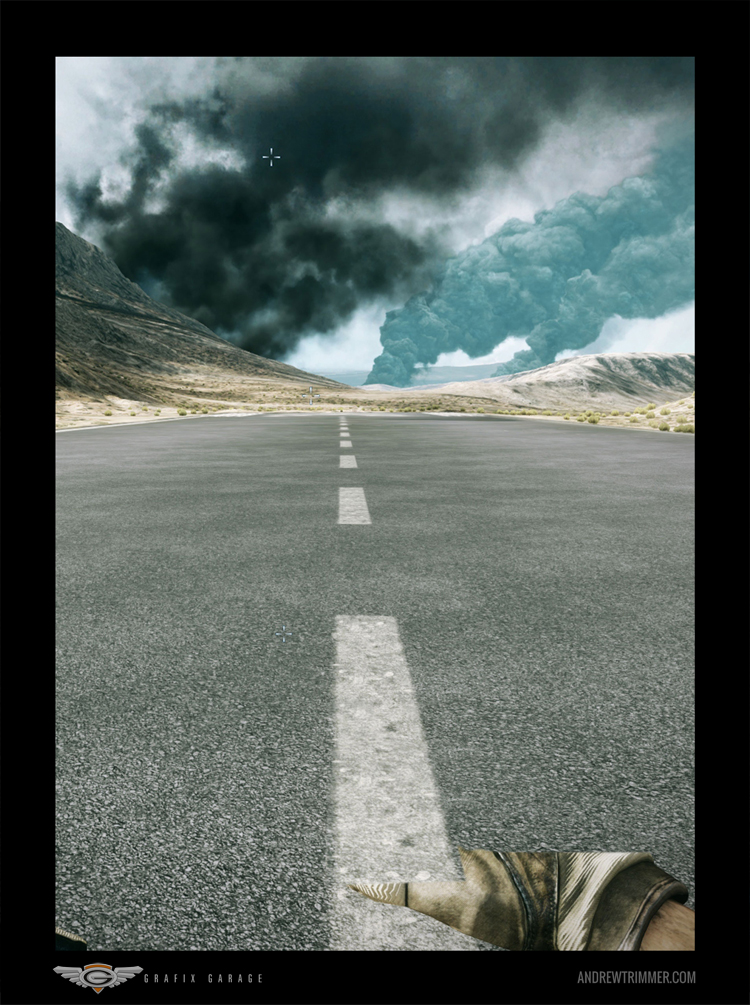 Step 2D.
Completed background plate placed within poster composition frame.
PHOTO PLACING AND MASKING
Placing and Masking the Characters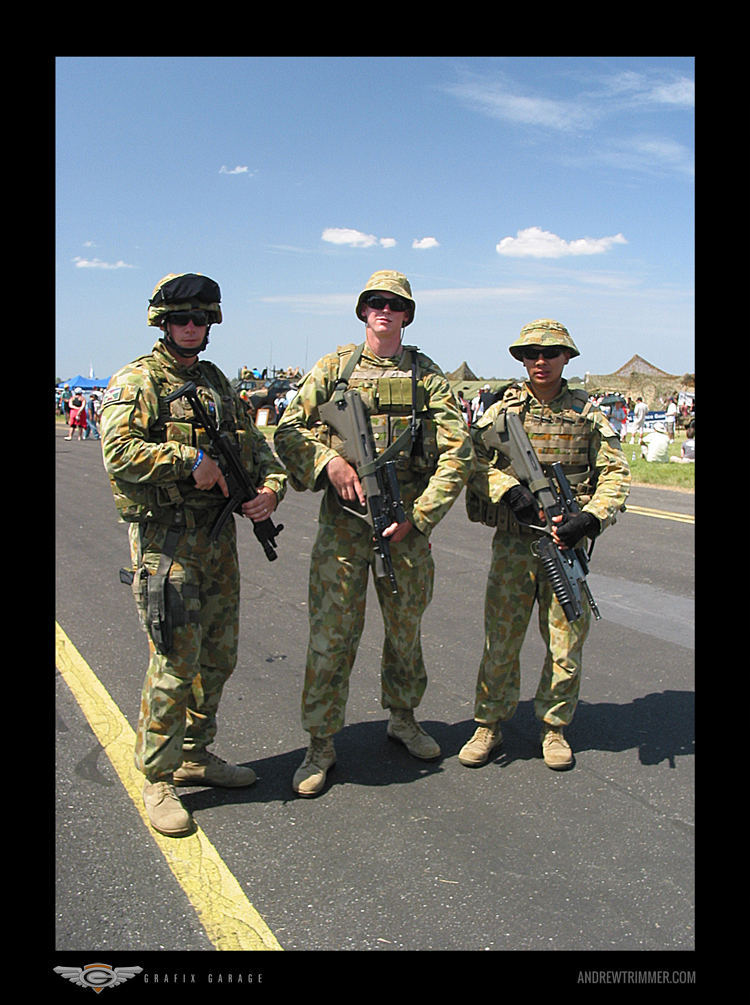 Step 3A.
This image is the base for the three squad members. I took this shot at the October 2008 Amberley Airshow, where these three airfield guards were part of the tarmac display as members of the Amberley-based No. 2 Airfield Defence Squadron (2AFDS)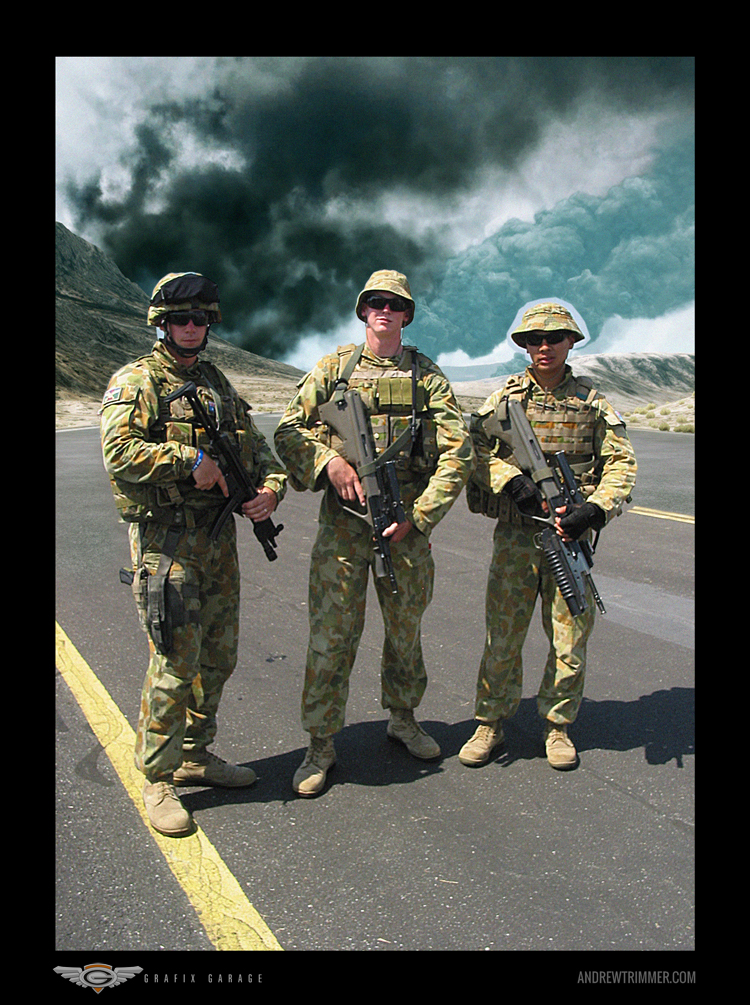 Step 3C.
Isolated the three soldiers with tarmac area and masked to reveal game background plate.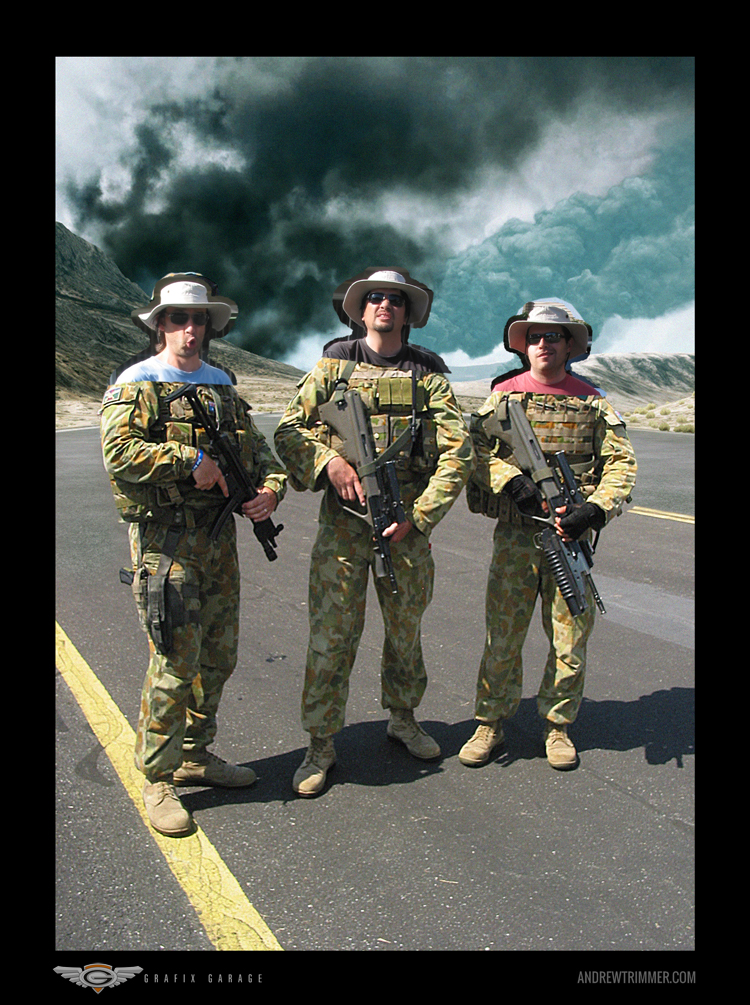 Step 3D.
Photographed the three Garage team mates separately in the car park oriented to the approximate sun light direction with fishing hat and sunglasses on to cast similar shadows to match the original photo of the soldiers. Then positioned, re-sized, and roughly isolated the heads.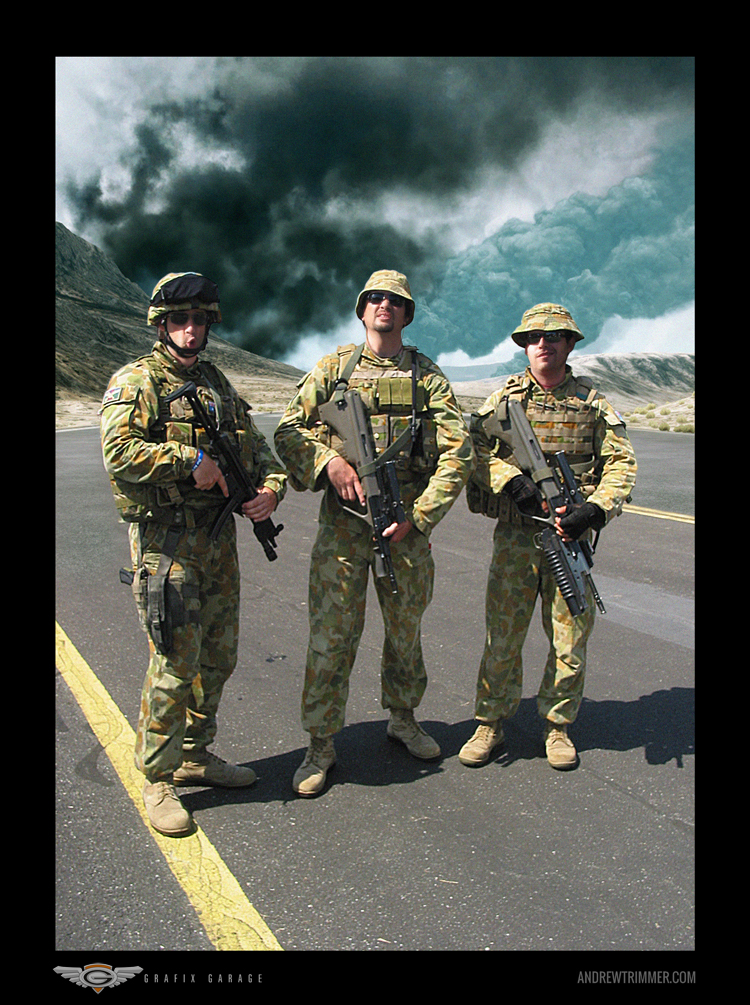 Step 3E.
Masked out all surrounding details around the head photos to match the underlying soldier head position.
GRAPHICS AND COLOUR GRADING
Positioning Text and Graphics, and Balancing the Image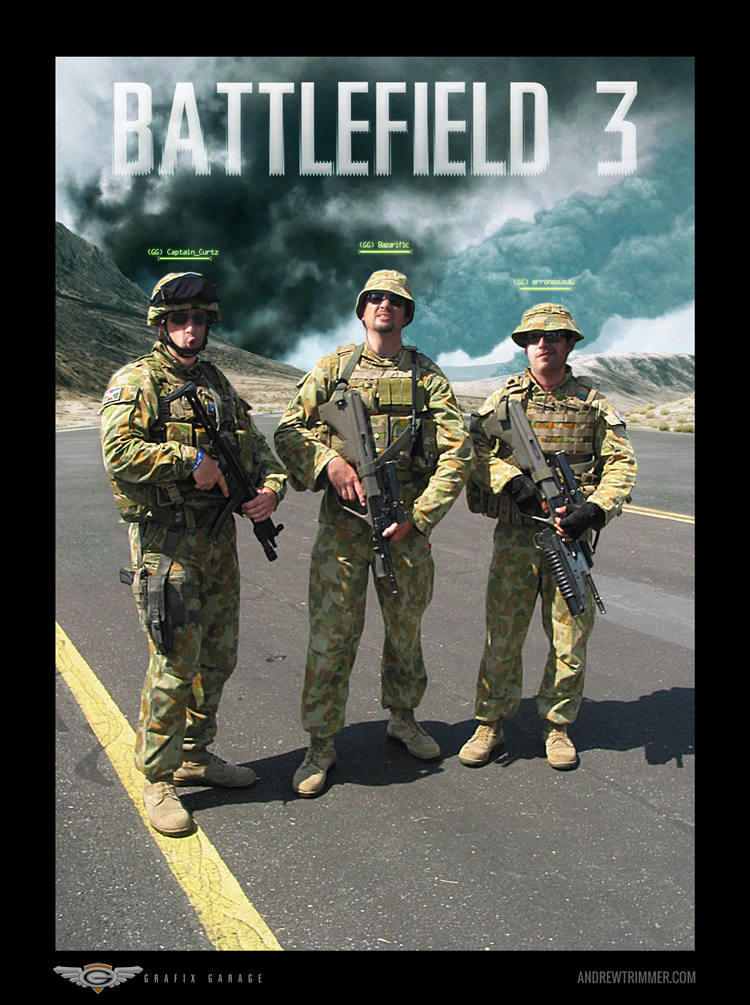 Step 4A.
Added the Battlefield 3 Logo and the individual player tags as they appear in-game, with a subtle blur glow behind the text.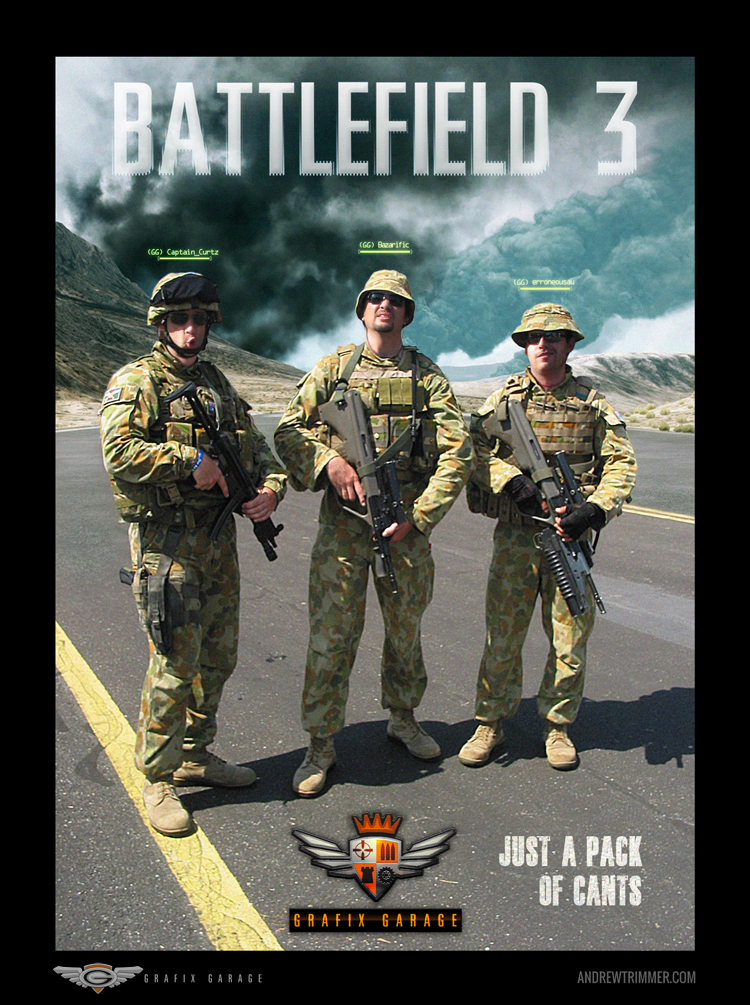 Step 4B.
Set the subtitle 'Just a Pack of Can'ts', and placed The Garage Platoon Badge at bottom designed by Craig Litchfield and colour matched to Grafix Garage logo. Added a few touches of highlights and shading to the Badge for more dimension.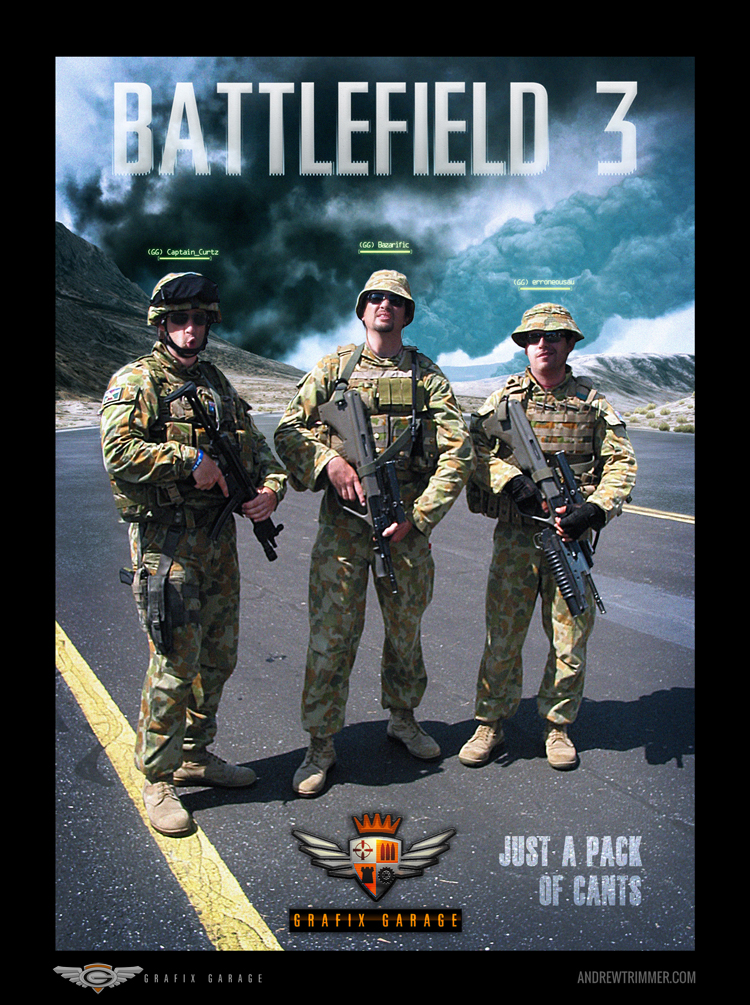 Step 4C.
The final colour grade added as blue photo filter to match the cool tone of the in-game footage, plus an 'under' exposure edge halo added to draw in the eye to the center. An overall exposure levels adjustment was added to bring up the contrast.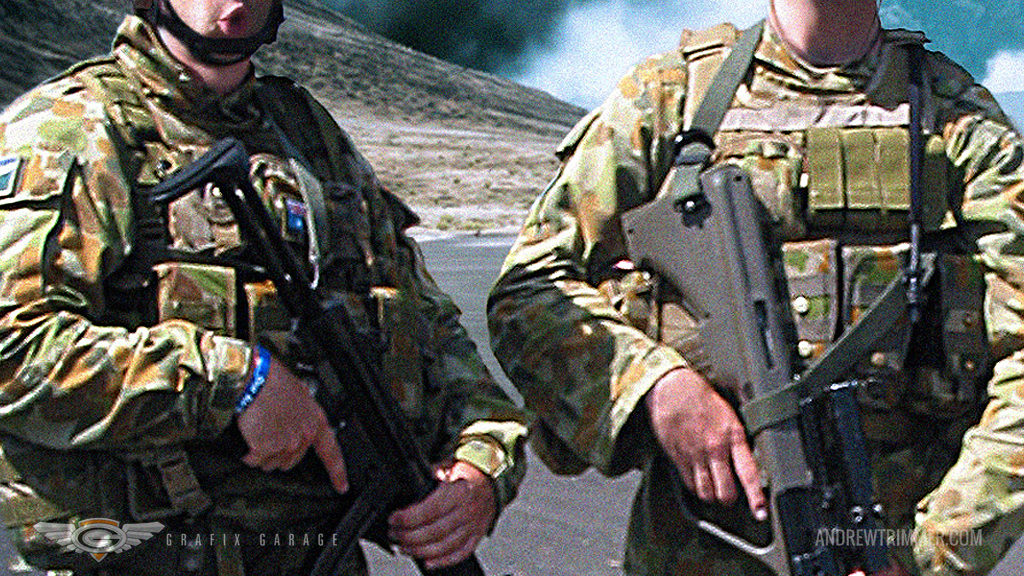 Step 4D.
To unify all the separate photo elements that were shot and screen captured with varying resolutions and sharpness levels, a grain filter was applied to the whole image.